Services
Webflow
Experience & Design
E-Commerce & Development
Webflow
About
eco.nova does "Magazin"
eco.nova is an independent - and one of the most renowned - business magazines in the german speaking area, covering stories, news and trends mainly within the world of business, but also science, architecture, wellness & health, law and lifestyle. Recently eco.nova published an article about Momentum - head over to our blog section to check it out.
About the project
Moving an offline publishing company digital
The project started out with strategizing the publishing company's next move in an increasingly digitalized world. After setting a clear strategic pathway with the client, the focus shifted on building an online hub for eco.nova to flourish in the digital world and at the same time hand their existing as well as new readers a new and digital way of buying and consuming the magazine. We built a new website and onlineshop for eco.nova, with the focus being on creating a seamless user experience for visitors and to increase subscriptions to the magazine through online channels.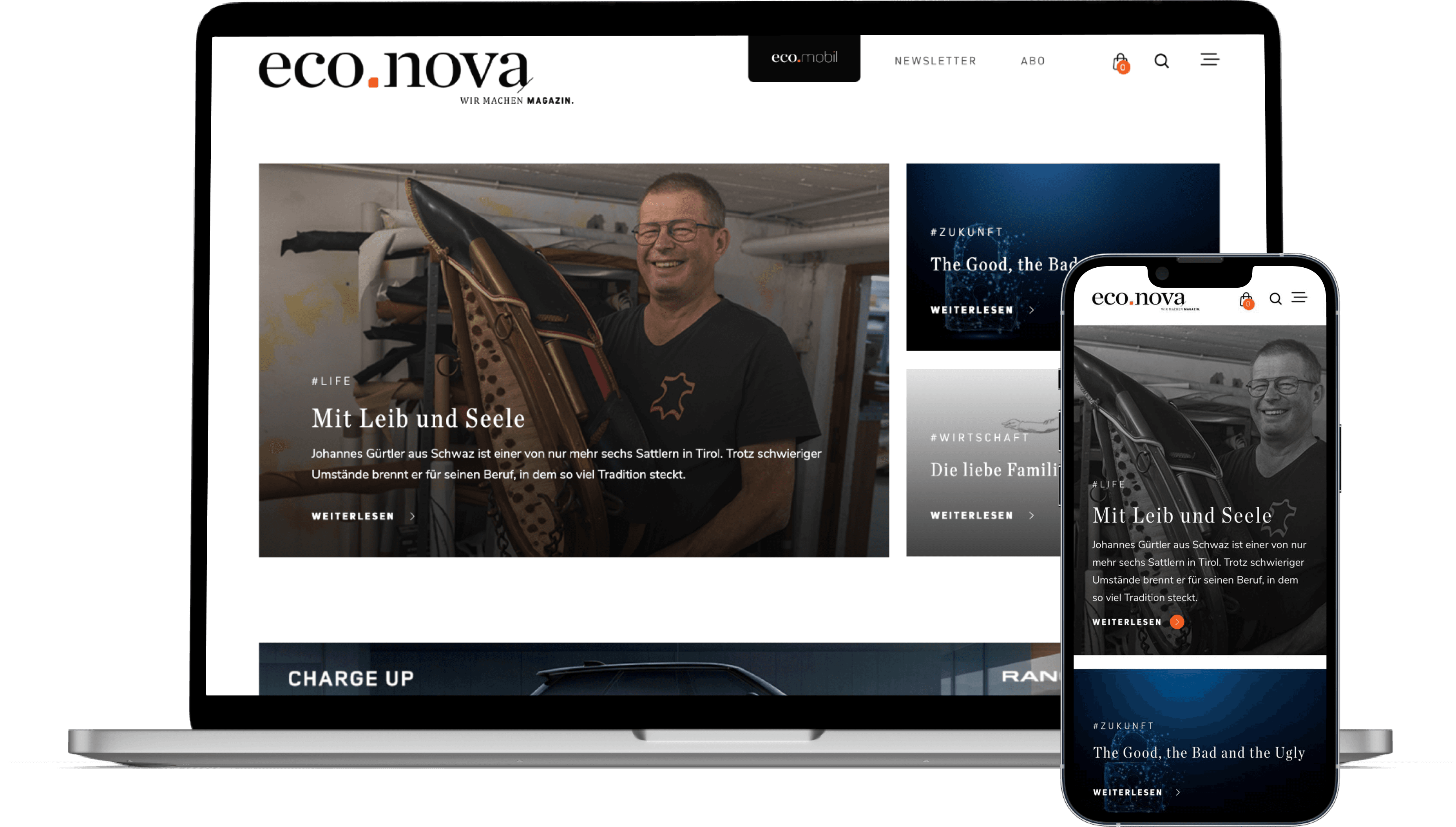 What we did
A proven system to deliver impact
Discover

We discover needs, pain points, wishes, requirements and more about our users.

Strategize

We develop concepts, strategies and action plans on how to leverage the previously discovered pain points or solve our user's problems.

Execute

Once we have tested and validated our designs and prototypes, we go into development and execution. Now we are talking agile software development.

Launch

Launching a new product or service requires clear and thought-out go-to-market strategies. We focus all our energy on the big day!

Evolve

After launch comes growth. This phase is accompanied by careful strategic work that makes sure the product or service is continuously improved as it evolves.
Corporate colours
From print identity to digital identity
Contact us
Let's talk about what we can make, build and scale together
Our projects
View some of our latest and greatest projects that we are proud of
Talk to us